Special Column: The Truth Of "Love Pimples"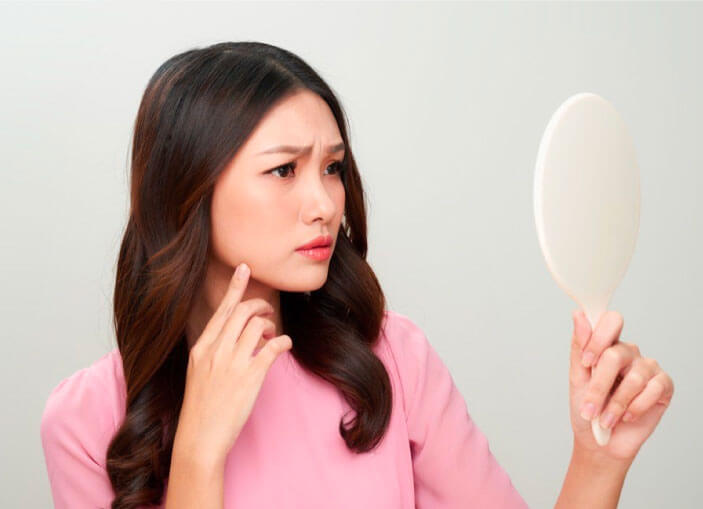 Have you heard of the belief that pimples can predict your love life? Some say that pimples on the forehead mean a one-sided crush, while one on the chin means someone is thinking about you. There's actually another name for this condition: adult acne.
LOVE PIMPLES = ADULT ACNE
Compared to teen acne, which occurs around the T-zone of your forehead and nose, adult acne pops up after age 20 and occurs around your U-zone: the mouth, chin, cheeks and neck. It also tends to heal more slowly.
Unlike teen acne, adult acne is caused by various factors, including irregular lifestyle habits, stress, lack of sleep, hormonal imbalance and decreases in skin rejuvenation. If juggling your work and relationships has you going to bed late, neglecting your diet, or sleeping with your makeup on…we've all been there, but it needs to stop! Get plenty of sleep, eat a balanced diet, and practice a stress-free lifestyle.
HAVE NO PIMPLES, LEAVE NO MARKS
Even dehydrated skin can lead to pimples in adults! When the topmost layer of your skin dries out, your skin's natural turnover rate decreases. This causes blocked pores that can lead to pimples. These pimples also scar easily. When skin is inflamed due to pimples, it activates melanocytes which produce melanin. Slow skin turnover rate can cause the pigment to sink in and form pimple marks.
CAN I PREVENT PIMPLE MARKS?
Vitamin C works fast to maintain skin health and suppress melanin production. You can get plenty as part of a balanced diet, as well as through your skincare. Actively add vitamin C to your routine to prevent pimple marks and dark spots. We recommend a toner that contains Vitamin C for your daily routine, with an added beauty essence as spot care for areas that you are concerned about.
SMOOTH SKIN FOR A SMOOTH ROMANCE!
For soft, clear skin without any pimples or pimple marks, don't rely on fortune-telling pimples; take charge yourself. Your pimple-free bare skin is your best ally in finding a new partner!